Classical Liberal Reading Group
"Most of the steps in the evolution of culture were made possible by some individuals breaking some traditional rules and practicing new forms of conduct - not because they understood them to be better, but because the groups which acted upon them prospered more than others and grew" (Hayek, 1979)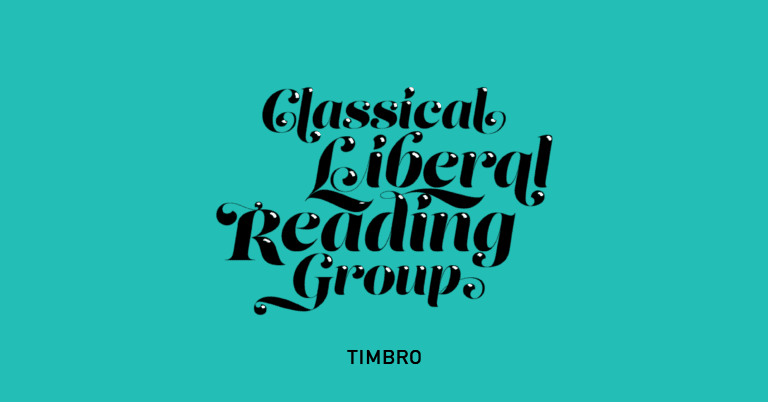 The Timbro classical liberal reading group has been active since 2015 and is an appreciated part of Timbro's educational program. This December/January the reading group will focus on some of Hayek's later texts. The main reading is The Fatal Conceit – The Errors of Socialism (1988).
Why is collectivism recurrent in modern societies?
Friedrich Hayek (1899 – 1992) spent most of his academic life analyzing the functioning of modern societies and the reoccurrence of collectivist mentalities and structures. The reoccurrence of bad mental habits is also called atavism. Do such penchants and mentalities emanate from primeval instincts formed in a hunter-gather state of society? And, if so, how does this inheritance affect policy making and political systems in our time?
Wikipedia writes: "In this book, Hayek aims to refute socialism by demonstrating that socialist theories are not only logically incorrect but that their premises are also incorrect. According to Hayek, civilizations grew because societal traditions placed importance on private property, leading to expansion, trade, and eventually the modern capitalist system, which he calls the extended order."
We are reading parts of the 1991 University of Chicago Press edition of The Fatal Conceit edited by Bartley, W. W., III. Additional reading is primarily some chapters from Law Legislation and Liberty.
Organization of sessions:
The reading group sessions are held 17.30 – 19.00 (CET) at Timbro Kungsgatan 60, 2nd floor (also on Google Meet):
Tuesday, December 14, 17.30 – 19.00 (CET):
Chapter 11 of Law, Legislation, and Liberty, Vol. 2 (Chicago, 1976), "The Discipline of Abstract Rules and the Emotions of the Tribal Society," pp. 133-152 + notes 189-191.
"The atavism of social justice," New studies in philosophy, politics, economics and the history of ideas. Chicago, 1978, pp. 57-68.
2. Tuesday, December 21, 17.30 – 19.00 (CET):
"Epilogue: The Three Sources of Human Values," Law, Legislation, and Liberty, Vol. 3, Chicago, 1979, pp. 153-176 + notes 196-208.
The Fatal Conceit, Chapter 1, "Between Instinct and Reason," pp. 11-28.
The Fatal Conceit, Chapter 4, "The Revolt of Instinct and Reason," pp. 48-65.
3. Tuesday, January 11, 2022, 17.30 – 19.00 (CET):
The Fatal Conceit, Chapter 5, "The Fatal Conceit," pp. 66-88.
The Fatal Conceit, Chapter 6, "The Mysterious World of Trade and Money," pp. 89-105.
The Fatal Conceit, Chapter 7, "Our Poisoned Language," pp. 106-119.
The Fatal Conceit, Chapter 9, "Religion and the Guardians of Tradition," pp. 135-140.
In each session, the format will be:
Dan Klein summarizes a chapter
Comments and questions for a few minutes
Klein proceeds to summarize the next chapter, etc.
Apply
If you are interested in participating and want to obtain the books and other readings from Timbro, write an email to Björn Hasselgren bjorn.hasselgren@timbro.se. Shortly describe your background and tell why you would like to take part of the exercise. Apply by December 4 2021. Also contact Björn if you have any other questions about the reading group, +46-70-7623316.
Professor Daniel Klein, who will lead the Reading Group, is also available by email dklein@gmu.edu